Company Christmas Party in Graz: The Top 6 Ideas for 2023
Thu, 07 Sep, 2023
The holiday season is approaching, and companies throughout Graz are contemplating how best to reward their employees at the corporate party. Amidst all the festive hustle and bustle, gift shopping, and family gatherings, one must not forget that the corporate party in Graz is an important event, often the highlight of the year for many employees. You might be wondering: where to have the Christmas party? Or what to do at a corporate party? Well, let's dive into the details!
1. Theme Party: A Celebration of Fantasy
Are you searching for corporate party ideas that will surprise your employees? Then, a theme party could be the perfect choice! It's all about getting creative and creating a unique atmosphere. How about throwing an '80s party that evokes memories of neon outfits and legendary music? Or perhaps you'd like to transport your employees to the glittering world of a casino night, where they can try their luck with games like poker and roulette.Elevate your Graz company Christmas party with these 6 exciting ideas for a memorable celebration.
Choose the theme that best suits your corporate culture and your employees' preferences, and let the party planning begin. This sounds like a truly cool Christmas celebration, doesn't it?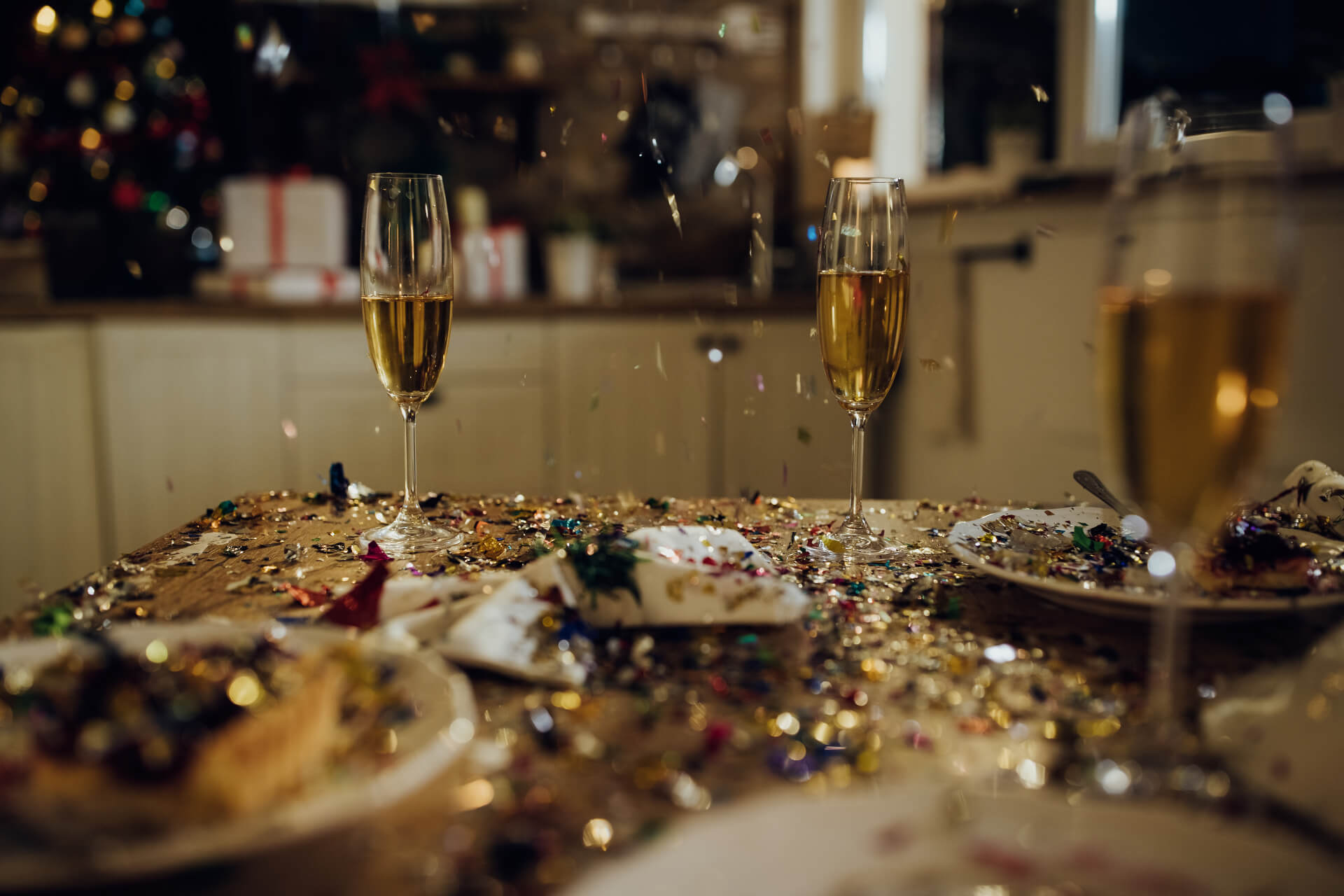 2. Karaoke Competition: Your Employees as Rockstars
How to make the Christmas party fun? Here's a suggestion: with an exciting karaoke competition! Give your employees the stage to reveal their hidden singing talents and maybe even discover the next big star within your team.
This event not only offers a fun Christmas party but also creates a special bond among team members. Singing and cheering together create a great experience that will be remembered for a long time.
So, why not give those karaoke microphones a chance this year? It could be the best decision for your corporate party ideas in Graz. And who knows, your company might soon be known as the home of the next big singing talents. Rock on!
3. Comedy Show: Guaranteed Laughter
At a delightful Christmas party, humor is a must! How about booking local comedians to provide an entertaining show? This is a great way to ensure that your colleagues laugh heartily and have a fantastic time.
A comedy show at the corporate party in Graz not only brings joy but also promotes teambuilding. When everyone laughs together at humorous anecdotes and jokes, it strengthens your team's bond.
And hey, who says Christmas parties always have to be serious? With a comedy show, you show that you keep the fun factor high, and your employees know how to make things funny at Christmas parties. So, treat yourself and your team to some laughs – it will be a lovely Christmas party that no one will forget anytime soon!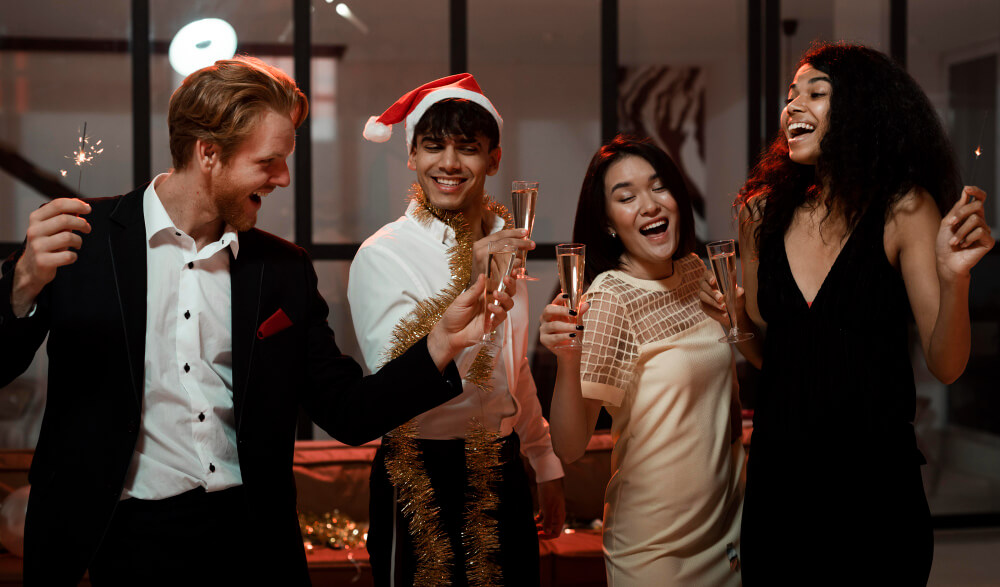 4. Charity Event: Doing Good Together
Celebrating your Christmas party in a special way by giving back is an admirable idea. A charity event not only enriches the festive atmosphere but also gives your Christmas party celebrations a deeper meaning. Consider integrating a fundraising campaign or a charitable project into your corporate party. This not only demonstrates social responsibility but also sets a positive example.
The Christmas party invitation can include a special invitation text explaining the purpose of the charity action. This informs your employees early on about how they can participate, creating anticipation and motivating them to join.
As part of teambuilding in Graz, your employees' collaboration is taken to a new level. They are not only organizing the celebration together but also working collectively for a good cause. Make your Christmas party 2023 an unforgettable event that not only makes your employees happy but also benefits those who will profit from your charitable action.
5. Game Tournament: Competition and Fun
Your Christmas party location in Graz becomes the setting for an exciting competition! Who says fun games are only for children? We say it's time to awaken your employees' playful spirit. Organize a board game or video game tournament where teams compete. This is not only a great idea for fun activities at the party but also strengthens team spirit.
Imagine the excitement as colleagues compete against each other in Monopoly or FIFA to crown the champion. These games promote collaboration and strengthen relationships.
Don't forget to prepare prizes to fuel the competitive spirit. Restaurant vouchers are popular rewards.
A game tournament adds excitement to the Christmas party in Graz and provides entertaining and team-building experiences. Treat yourself to adult party games and make your corporate party unforgettable.
6. Escape Room: Thrills and Teamwork
Have you ever experienced the pulsating feeling when time is ticking, and every second counts? That's exactly the adrenaline-filled experience offered by a Graz escape room. In recent years, these rooms where teams solve puzzles to escape have become a true sensation. Think of the escape room center in Graz – a place where minds race and teams work against the clock – often just 60 minutes – to emerge victorious. There's a reason why many consider it the best escape room in Graz!
Imagine this thrilling scenario becoming part of your next corporate party. Not only does it promote teamwork, but it also tests your employees' problem-solving skills. And who wouldn't want to experience the best escape games in Graz? It's more than just a game – it's a challenge, an adventure, and, above all, it's darn fun! So why not consider the Escape Room the next time you're looking for the perfect company activity? It could be the missing piece for your unforgettable celebration!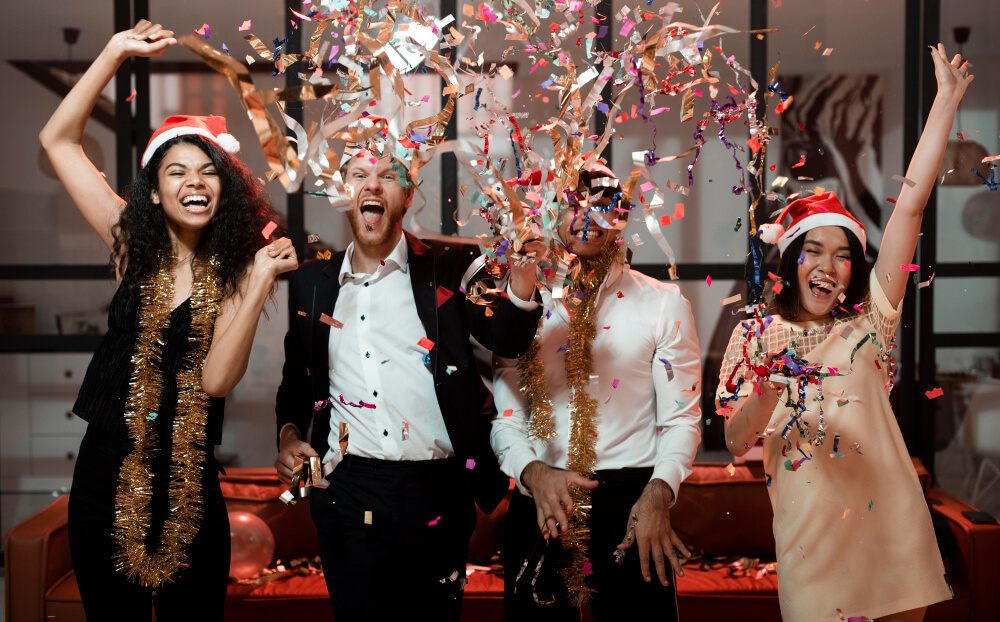 Conclusion
Whether traditional or modern, the Christmas party should be both fun and promote team spirit. Graz has so much to offer, from great restaurants in Graz for Christmas parties to unique Christmas party locations. It's more than just bidding farewell to the year; it's also about gearing up for the adventures that lie ahead. And, naturally, it's a chance to express our gratitude. Regardless of the concept you opt for, ensure it resonates with your company's spirit, ensuring everyone enjoys a fantastic time. Until the next celebration, in one of the best locations in Graz!